Shirty Science Presents The Most Excellent Science Shirt
TIME: 6:30pm
WHEN: 15 August, 2023
LOCATION: Online | Shirty Science YouTube Channel
TIMEZONE: AEST
RSVP NOW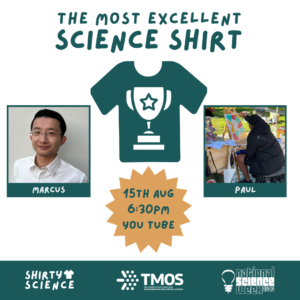 Ten brilliant minds have collided to create five shirts through an incredible fusion of science and creativity. Including our own Marcus Cai.
Now we need YOUR help to determine which one is The Most Excellent Science Shirt!
Join host, Nate Byrne, ABC Breakfast Weather Presenter as each scientist and artist pitches their shirt design in just 60 seconds to YOU AT HOME and a panel of judges including: Dr Emma Burrows, neuroscientist and art science collaborator and Shuh Lee, maker of useable, wearable and fun things.
You will let us know if you love the design, you think it's pretty cool or if it's not quite your thing. We have had a sneak peek and are pretty sure you will love the TMOS design. Shirty Science will crunch the numbers and together we will decide which is The Most Excellent Science Shirt.
Expect nothing less than a celebration of intellect, innovation, and style as Shirty Science embraces the synergy between science and art. From awe-inspiring illustrations of the cosmos to quantum masterpieces and everything in between, this event promises an eclectic display of the most fascinating science shirts you have ever encountered.
All shirt designs will be available to purchase online at shirtyscience.com after the event. Profits go towards the Shirty Science Change Maker program to create shirts with organisations supporting diversity and inclusion in STEM.
This event is delivered in partnership with ARC Centre for All Sky Astrophysics in 3 Dimensions, ARC Centre of Excellence for Engineered Quantum Systems, ARC Centre of Excellence in Exciton Science, ARC Centre of Excellence for Plant Success in Nature and Agriculture, ARC Centre of Excellence for Transformative Meta-Optical Systems and supported by National Science Week Grants 2023.
View all events