TMOS Chief Investigator Madhu Bhaskaran to co-lead Women in STEMM Australia
03 Dec, 2021
"It is an honour to take on this role alongside Sarah and I am excited to see how we can bring our multi-sector experience to this organisation's leadership. Diversity and inclusion conversations and measures have come a long way since Women in STEMM Australia was first established and I am very proud to have this opportunity to take the organisation forward with a clear lens of intersectionality."
Women in STEMM Australia (WiSA) has just appointed TMOS Chief Investigator Madhu Bhaskaran and science educator Sarah Chapman as co-chairs of the organisation.
Founded in 2014, WiSA helps to address the needs of women in the fields of science, technology, engineering, maths and medicine (STEMM) by sharing information, amplifying STEMM associations with aligned values, and highlighting gaps in sector, including in policy and best practice.
Chief Investigator Bhaskaran says, "Women and other underrepresented groups have always faced challenges in the STEMM field. Some of these are barriers to entry, others are barriers to advancement. Many of these challenges are compounded by overlapping forms of marginalisation."
"It is an honour to take on this role alongside Sarah and I am excited to see how we can bring our multi-sector experience to this organisation's leadership. Diversity and inclusion conversations and measures have come a long way since Women in STEMM Australia was first established and I am very proud to have this opportunity to take the organisation forward with a clear lens of intersectionality."
Prof. Bhaskaran's appointment as WiSA co-chair is a progressive next step following her service on the board and her work as TMOS IDEA Director, where she is guiding the Centre as it establishes itself as an industry leader in inclusion, diversity, equity and access.
"On average the physics and engineering industry is only 20% women. Now, with more people from a broader range of social classes, gender and cultural identities entering higher education, we need to grab the opportunity to include this diverse range of human potential into careers within our scientific disciplines."
"Cementing novel practices into our systems and processes is critical, such as our women-only recruitment round which has seen an increase in the proportion of women researchers in the Centre. It's early days and there is more work to do, but I'm confident that there is a shift in attitudes towards inclusivity locally and within the broader industry."
"It's an exciting time to be working with change makers from various sectors on an issue that is so crucial. Diversity in the workplace increases innovation which, as you might imagine, is a key value proposition for the STEMM fields. I'm looking forward to the work that Sarah and I will be doing together."
TMOS Centre Director, Prof. Dragomir Neshev, applauds WiSA's decision to appoint Chief Investigator Bhaskaran to the Co-Chair role. "Prof. Bhaskaran is committed to embedding inclusive work practices into STEMM environments. She's an advocate not just for women but for people of all types of diversity, including colour, disabilities, gender, and other minorities. Her work is helping to remove the many hurdles these groups face."
Chief Investigator Bhaskaran is an award-winning engineer and applied research leader who has gained significant recognition for her innovative research, industry collaborations and leadership, such as the Batterham Medal from the Australian Academy of Technology & Engineering, the Frederick White Prize from the Australian Academy of Science, and the Eureka Prize for Outstanding Early Career Researcher.
Chapman is a dynamic STEM educator who has received the Prime Minister's Prize for Secondary Science Teaching for science teaching excellence and the Barbara Cail Fellowship from Chief Executive Women Australia. She also established the Townsville STEM Hub for North Queensland which brings the community together, and she is a STEM Ambassador with Science & Technology Australia.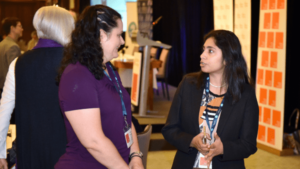 Sarah Chapman and Prof. Madhu Bhaskaran at Science Meets Parliament