TMOS Chief Investigator Jagadish announced as the next President of the Australian Academy of Science
29 Nov, 2021
TMOS Chief Investigator and Australian National University Distinguished Professor Chennupati Jagadish will become the next President of the Australian Academy of Science (AAS). He is the first Australian of Indian heritage to take on the role.
The Academy is one of Australia's foremost scientific organisations, tasked with providing independent, authoritative scientific advice to parliament, promoting international scientific engagement and building public awareness and understanding of science.  
"I never imagined when we came to Australia with my wife, a two-month-old baby and two-year contract thirty-one years ago, that one day I'd be elected a Fellow of the Academy and then go on to lead the organisation," said Professor Jagadish. "I look forward to championing science and scientific excellence in Australia". 
Science in Australia is facing multiple challenges, with government focus turning to commercialisation over research, a shortage of production infrastructure required for the nation to adequately tackle the challenges of Industry 4.0, and a lack of career paths for young academics. 
"As a nation, we must adequately invest in research and development to meet national and global challenges, such as climate change and future pandemics. 
"We also need to transition from a resource-based economy to a knowledge and technology-based economy."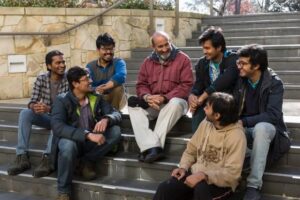 A key element of Professor Jagadish's vision for the future of science in Australia is the nurturing of the next generation of scientists. 
"Creating a sense of hope for the younger generation is crucially important at a time when the number of positions in the university research sector is limited and the research funding success rate is also low." 
Developing minds has long been a priority. In 2015 Prof. Jagadish and his wife Vidya have established a fund dedicated to supporting young scientists from developing countries. The fund provides financial support for students to visit ANU to gain research experience, showcase their abilities and develop their networks. The fund also provides 1 fellowship per year to a young scientist to ANU Physics. 
"Our aim is to create an Endowment of AU$ 1 Million so that this will support up to 6 students and 1 young scientist every year in perpetuity. Every year we donate some funds to ANU and ANU matches our donation. Again this is all part of giving something back to the community and supporting the younger generation." 
His commitment to underprivileged students is in large part driven from his own background.  
Born in India, Professor Jagadish grew up without electricity and studied in front of a kerosene lamp until his first year of high school, before coming under the tutelage of maths teacher, Chaganti Sambi Reddy. 
Seeing the young student's potential, Reddy invited Jagadish to live with his family, so he didn't have to walk six kilometres each day to attend high school. 
"I have started my life in a small village in India and benefited from the generosity of my teachers and many mentors. Having been born and educated in a developing country and then working in the developed world most of my career…it is time for me to give something back to the developing world." 
"I am grateful for the opportunities I had in my life and would like to provide opportunities for others". 
Chief Investigator Jagadish has played a crucial role in TMOS's development over the past few years, both as Research Theme Leader and a Centre mentor. Centre Director Dragomir Neshev says, "Prof. Jagadish is an exceptional scientist who is giving back to the scientific community with great kindness and generosity. His door is always open to share knowledge and experience with his peers. 
"The Australian Academy of Science, and the Australian community are lucky to have him in his new role, where his experience will deliver immeasurable benefit to society." 
Prof. Jagadish will remain in his role as Centre Chief Investigator, however, will be handing over the Theme Leader reins to Chief Investigator Prof. Hark Hoe Tan.